Touring Your Clan Lands
Many visitors to Scotland have links to Scottish clans or families and wish to explore their ancestral lands and the castles, houses, battlefields and other sites associated with them.
Clans and Castles specialises in weaving the stories of one or more clans into your holiday to give it extra relevance and a point of reference. But this is no dry exercise: our belief is that a touch of history should not get in the way of a good holiday. The beauty of Scotland is that past and present go together, so your visit can be enriched and made even more fun and memorable by its connections with a particular clan of or family.
We have developed specialist tours for the following clans, with dedicated pages on this website
Also, in recent years we have also arranged bespoke tours based at least in part on Clans Armstrong, Barclay, Brodie, Cameron, Crawford, Cumming, Cunningham, Elliot, Fraser, Graham, Guthrie, Keith, MacCallum, MacGillivray, MacGregor, MacKenzie, MacKinnon, MacLeod, MacNaughton, MacRae, Rattray, Robertson, Ross and Turnbull.
If you have a special interest in any of these clans, or indeed any other Scottish family, do contact us to see how we can help you include some clan culture – ancient and modern in your holiday.
The visits we arrange to family or clan lands are as intense and complete as possible. 'Intense' means bringing you as close as possible to your heritage. 'Complete' means that significant places or experiences are not missed through a simple lack of knowledge.
In some cases you will sleep in a clan castle, in exceptional cases the clan chief's castle. Otherwise, we can often arrange a stay in a significant, but more modest house with clan associations.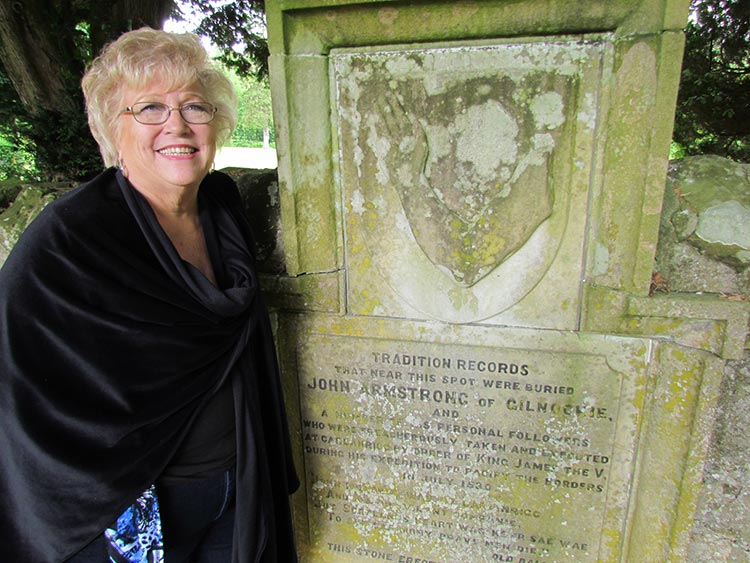 Memorial to Johnnie Armstrong of Gilnockie
Our 18th century forbearers would look with some amazement at today's neat lawns and crunching gravel, but they would know the building, recognise the grooves on the front door pillar where they sharpened their claymores. Many castles are well maintained, some are open to the public; but sadly most are now in ruins - ravaged by clan feuds, civil war and harsh weather. Even if your clan castle is no more than the stump of a wall, a welcome shelter to sheep in winter storms, the hills and rivers are still there. This is the spot. These are the stones.
In graveyards, you may be sure of walking in your ancestors' foot prints. In some graveyards there is a vault or burial enclosure for the family of the local chief or laird. Yew or rowan trees were often planted to ward off the evil spirits; the trees are still watching and it only takes a little imagination to see the mourners of earlier times and hear the piped lament fading in the wind.
And battles. Every clan had its battles. Most sites are unmarked but sometimes there is a monument to the dead, or a stone where the clan would traditionally gather. There may be an old bridge that marks a victory or a shore on which a planned landing floundered. We will take you there if we can.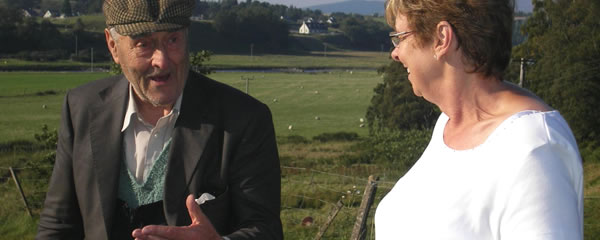 People are often delighted to talk about local customs
There is no additional charge for any research we undertake for your clan land holiday. We just tailor the itinerary to take in as much of your clan history as you would like.
You can take a self-guided tour, a tour with a guide, or just have a guide for a few days. We work with you to find the best option.
People are often delighted to talk about local customs and you may even be so lucky as to find someone who remembers some members of your family ...
A marked map, tourist literature and as much advice as you need are all part of any Clans and Castles holiday!
To take your holiday plans further, you can either contact us by email or go to our Enquiry Form.