Clan Donald of the Isles Tour
We have developed the Clan Donald of the Isles Tour for anyone fascinated by the history of the great Macdonald clan and its involvement with Scotland's story from Robert the Bruce to the Jacobite rebellions. It's also for those who want to experience some of Scotland's most dramatic Highland and Island scenery, and to get a flavour of local Scottish culture.
We include some places that consistently delight our visitors: Castle Tioram, Glencoe, and the Isle of Skye, and have the chance to meet some members of todays' clan on their home territory.
Each tour is with a group small enough to access the best places to stay and the most interesting sites, but with a convivial feel. It is for a maximum of seven people, travelling in a nine seater minibus with an expert guide. Dates are flexible. We can arrange this tour for a group of four or more. If you would like to join a group, but are travelling with fewer than four people, we can try to combine you with others. In either case, please contact us to discuss dates.
It includes:
All accommodation (with breakfast)
Transport including ferries
Entry to key sites
Meeting local clan members and chiefs
A knowledgeable driver-guide
NOTE: We also run a self-guided 'Clan Donald Tour' which is based on the same itinerary and can be arranged at any time, contact us for more info.
This seven night tour takes you into the heartland of Macdonald country as it was in Jacobite times. We visit the territory of several of the Clan Donald kindreds and their ancient castles: GlenCoe, Clanranald, MacIain, Sleat, Skye, Glengarry and Keppoch. Our journey takes through the most dramatic parts of the West Highlands and some of the most beautiful of the Western Isles: the Uists, Benbecula and Skye.
The tour is designed to fit around a working week for those who can't take more time off, but the holiday can of course be extended at either end for those who want to spend more time exploring Scotland. We'd be happy to offer advice and ideas for an extended vacation.
In future years we will arrange further Clan Donald tours exploring other areas associated with the clan – the Southern Hebrides (including Islay and Kintyre), the great battlefield sites and even Northern Ireland! Watch this space.
Tour details
Arrival day
Experience teaches us that people prefer to give themselves at least a full day to recover from the flight, adjust to the time zone and explore a little on their own. We are therefore including a night at a chic Bed and Breakfast close to Edinburgh city centre before you meet your tour guide. If you would like to arrive in Scotland earlier, let us know and we can help arrange more accomodation.
While in the City, visit he National Museum of Scotland to see key Clan Donald artefacts such as the books of Clanranald, West Highland sculptures and the sections on the Lordship of the Isles and the Jacobites.
Day 1 with guide
We all meet in the foyer at 9.15 am and set off for the West Highlands. Through the 'cockpit of Scotland' (dominated by Stirling Castle and the scene of Bannockburn) and on to dramatic GlenCoe. We pay our respects at the massacre memorial before crossing the Corran Ferry into the remote 'Rough Bounds' and our Moidart hotel.

Day 2
A day exploring MacIain and Clanranald territory. We visit two of the great Clan Donald castles – restored Mingarry Castle and romantic, ruined Castle Tioram. In the evening, a taste of local culture – music and perhaps a wee dram or two courtesy of some local Macdonalds.
Day 3
North into Arisaig, past the Seven Men of Moidart. A visit to Glenfinnan, where Bonnie Prince Charlie raised the clans. Then we make for the sea via the white sands of Arisaig. Our ferry to the isles sets off from Mallaig and we pass Skye, Eigg, Rhum and Muck on our way to the Outer Hebrides. A night in a South Uist Inn.
Day 4
After a short trip to Eriskay – scene of 'Whisky Galore' as well as where the Bonne Prince landed, we meet up with a local clansman for some insights into island life and culture. Then to Howmore, burial place of Clanranald, and the Kildonan museum before a second relaxing evening at the inn.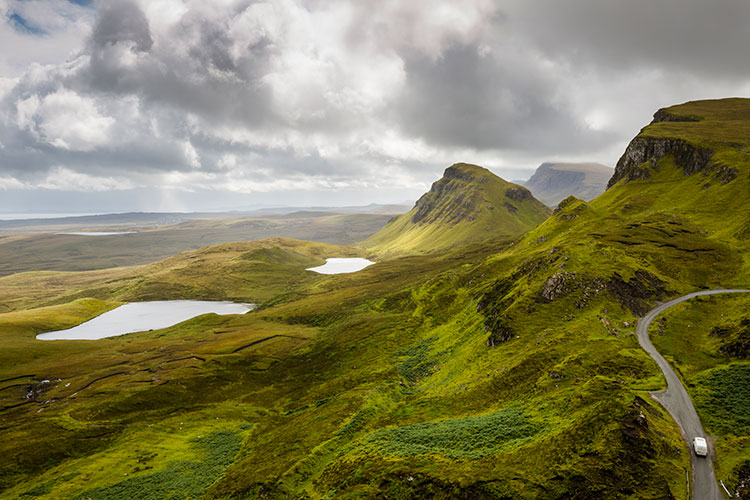 Skye's dramatic landscape
Day 5
Through Benbecula and North Uist – both Macdonald islands. We take in the Neolithic sites at Carinish and Langais and Amy McRuari's Trinity Temple. Then 'Over the sea to Skye' in Flora Macdonald's footsteps (and wake) with the Skye ferry, where we stay the night.
Day 6
Our cameras are out as we tour the magnificent Clan Donald territory in North Skye: Duntulm Castle, Flodigarry (and Flora's grave) plus the dramatic, volcanic Quirang.
Day 7
We drive through the island to Sleat, the garden of Skye and heartland of Clan Donald today. A visit to the Museum of the Isles at Armadale Castle. Ruined Dunscaith, then a meal at Kinloch Lodge, family home of Lord Macdonald – with a chance to meet the High Chief.
Day 8
Over to mainland, via the old turntable ferry at Glenelg. A look at the extraordinary Iron Age brochs before venturing into Glengarry and Keppoch territory. Then back via Killiekrankie to Edinburgh and a final night in a comfortable hotel.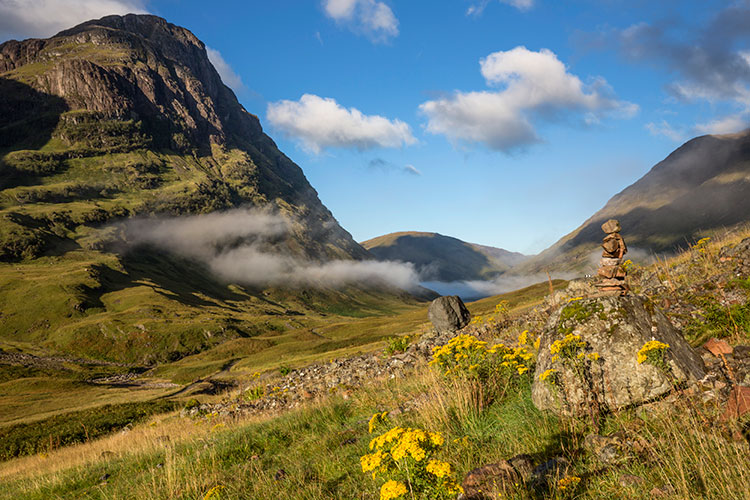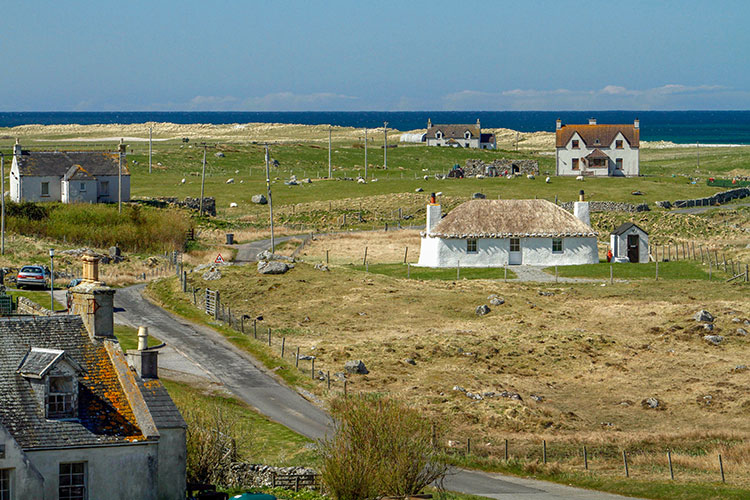 Price, Transport, Guide, Accommodation and Shopping
As an indiaction, the cost of the tour when it was developed in 2019 was GBP £2,550 (USD $3,190 approx). Please contact us for updated prices.
If you are happy to share a room, we offer a £150 discount.
There is also a £50 discount for members of officially recognised Clan Donald societies around the world. Just let us know which society you belong to.
The tour will be for a maximum of seven people travelling in a nine seater minibus. The itineray may change slightly to match changing ferry schedules.
If you wish to plan a 'self-drive' version of the tour, please contact us for a quote.
Breakfast is included throughout. At the other meals there is a range of bar meals, snacks and more formal options available to choose from.
Luggage- we suggest a medium sized case plus hand luggage for easy access at your seat. If you are continuing your trip please ask us about left luggage facilities in Edinburgh.
What's Included?
Bed and Breakfast for all nights
Services of expert tour guides
Entry to castles (occasionally, by mutual consent, we change one castle for another)
Meeting key clan figures including the chance of a chief or two!
Two additional meals
Not included:
Air Fares
Most lunches and dinners, drinks and snacks
Trip insurance
We ask for a non refundable deposit of GBP £500 per person.
The balance is payable thirteen weeks prior to the start of the tour.
Cancellation
We strongly recommend that you take out trip insurance in case of unforeseen circumstances. Special arrangements for Covid related cancellations on request. Clans and Castles is registered under the official 'Good to Go' scheme. For more details on our terms and conditions please click here.
Exchange Rates
We use www.xe.com for our calculations. PLease check exchange rates carefully as they can fluctuate considerably over time.
ow What?
If you would like to know more about the trip and discuss dates then please contact us.
Then when you are ready to go ahead and book a place, you can make your non refundable deposit of GBP £500 below
Note - please use Ref: 'MACD'