Exploring the Highlands
This suggested itinerary is ideal for people who have never been to Scotland before. It is a self-guided holiday for two people staying nine nights and it can be lengthened, shortened or varied as required. The indicative cost including accommodation, car, ferry and taxes is up to GBP £1,500 per person (approx USD $2000 in Apr. 2022).
Edinburgh
Edinburgh is packed with interest. Most people like to have two nights there so as to adjust to the change in time. There is plenty to interest everyone - history, architecture, ghosts, galleries, old pubs and nice restaurants. Edinburgh Castle and the Royal Mile are essential viewing and you may like to look in on Gladstone's Land to see what life was like in the 17th century. We will arrange a B&B in a quiet street close to the centre.
Pick up a rental car and take time to see the extraordinary and evocative Rosslyn Chapel with its unique 15th century carvings - don't miss the angel playing the bagpipes!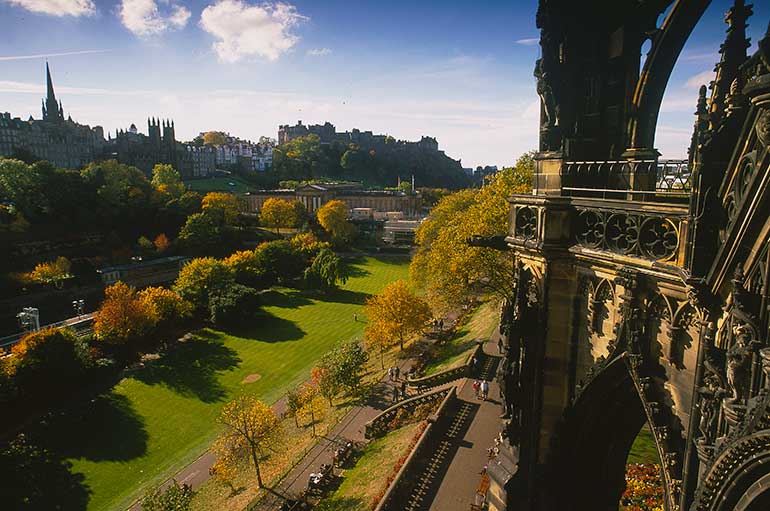 Glamis Castle
Heading north across the Forth Road Bridge, you pass Loch Leven and the island castle where Mary Queen of Scots was imprisoned. Next stop is Glamis Castle, childhood home of HM Queen Elizabeth, the Queen Mother. Here you are welcomed into a historical and architectural treasure trove - but not into the sealed chamber where the Lord of Glamis is said to have played cards with the Devil!
As you go north, there are several competing attractions (we will advise!) until you arrive on 'Royal Deeside' ('Royal' as this area has been the summer retreat of Queen Victoria and all subsequent monarchs). Here we recommend a relaxed country house hotel.
'Royal Deeside'
This is also 'castle country' - lots of them. Our favourite is Crathes, with its extraordinary painted ceilings inside and the most sumptuous of gardens outside. There are stone circles here, too, before you head up the River Dee to Ballater (see the exhibition in the old railway station) and Balmoral Castle (except when the Royal Family is in residence).
Heading over to Speyside there are more castles and plenty distilleries. There are fine views as you drop into the Spey Valley, then you cross the Dava Moor and the Inverness area. Here we recommend that you stay in a delightful small Guest House in Nairn - close to the beach, golf course and good walks.
Urquhart Castle by Loch Ness
Inverness Area
Your Inverness day should take in the well-known attractions of Cawdor Castle, Fort George and Culloden Battlefield - scene of the last battle to be fought on British soil and the end of the last Jacobite rebellion under 'Bonnie Prince Charlie'. No need to schedule much time for Inverness itself, but do not miss the extraordinary Bronze Age Clava Cairns, just five minutes drive from Culloden.
The West Coast and Isle of Skye
There is a magic about Skye and the west coast - ever changing light on the water, mellowness and year-round beauty. This route takes you by the much-photographed Urquhart Castle by Loch Ness and across to Eilean Donan Castle.
Now you have two nights in a restored Victorian inn by a little harbour in Sleat, a delightful part of Skye, rich in Celtic legend. Skye is wonderful. Journey up by the Cuillins to Dunvegan Castle or take a small ferry across to Glenelg.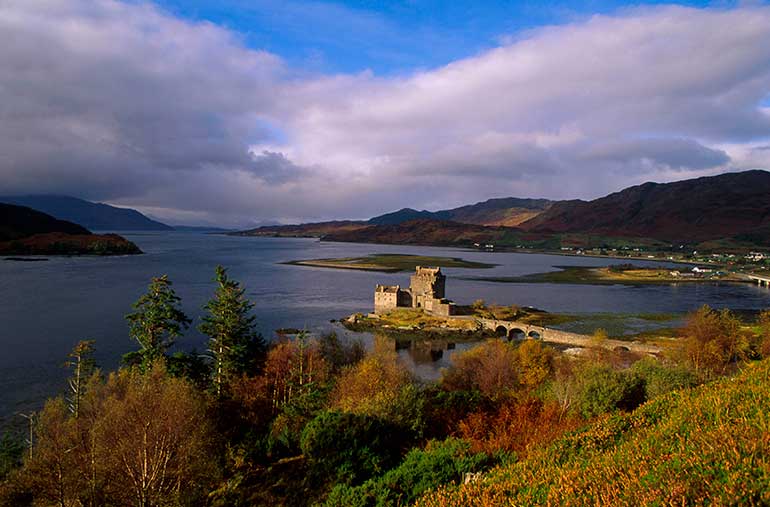 Distant Eilean Donan Castle
Glenfinnan, Glencoe and the Trossachs
It's the morning ferry to the mainland today. The drive from Mallaig by Glenfinnan, where Bonnie Prince Charlie raised his standard, is lovely. The road then goes by Fort William and beneath Ben Nevis, the highest mountain in Scotland, to Glencoe - famous as the place where the MacDonalds were massacred by a company of the British Army led by a Campbell.
Down in the green fields of Stirlingshire is Callander, famous as the home of Rob Roy MacGregor - cattle rustler, and blackmailer. That night is spent in a charming hotel built in 1625 as a hunting lodge for the Dukes of Perth.
Stirling
One last day to visit Stirling Castle, fortress and Renaissance palace where the infant Mary Queen of Scots was crowned. Also nearby are the (William) Wallace Monument and Bannockburn Battlefield . From here you take the motorway to either Edinburgh or Glasgow airport. Night at an airport hotel is included.
Cost
The cost for two people staying these nine nights in en-suite rooms with bed and breakfast, including the ferry from Skye and with an automatic Group Three car, would be up to GBP £1500 per person (approx USD $2000 in Apr. 2022).
A marked map, tourist literature and as much advice as you need are all part of any Clans and Castles holiday!
To take your holiday plans further, you can either contact us by email or else go to our Enquiry Form.