Exploring Your Clan Lands
The visits we arrange to family or clan lands are as intense and complete as possible. 'Intense' means bringing you as close as possible to your heritage. 'Complete' means that significant places or experiences are not missed through a simple lack of knowledge.
Many people have the time and energy to carry out their own research. For most, though, a driver/guide is the best option. Your guide will not only plan the day, navigate and drive, but will also answer your questions, explain what you are seeing as you go and divert a little for particular sights, lunch stops or photo opportunities.
When you arrive at your clan castle, monument, graveyard or significant heap of stones the guide will help you to understand what you are seeing and paint in the background.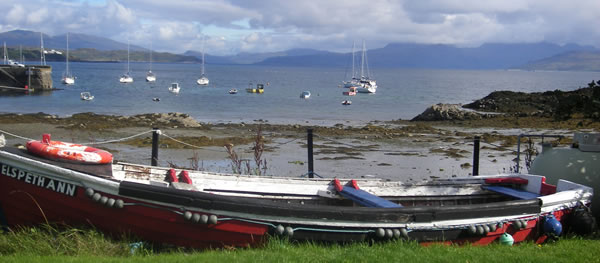 These tours are often exciting and unpredictable. Leads appear unexpectedly and must be followed up! This is where local geography, local contacts and a feel for time and distance come in to play.
We have good contacts with family history societies, clan organisations and local council archivists, and we will give you as much advice and help as we can. But detailed genealogical research has to be your responsibility. When it comes to clan history and heritage, finding remote and unpronounceable places and getting you there, this is part of our remit and there is no extra cost.
In some cases you will sleep in a clan castle, in exceptional cases the clan chief's castle. Otherwise we can often arrange a stay in a significant, but more modest, house with clan associations.
Our 18th century forbears would look with some amazement at today's neat lawns and crunching gravel, but they would know the building, recognise the grooves on the front door pillar where they sharpened their claymores. Many castles are well maintained, some are open to the public; but sadly most are now in ruins - ravaged by clan feuds, civil war, harsh weather. But even if your clan castle is no more than the stump of a wall, a welcome shelter to sheep in winter storms, the hills and rivers are still there. This is the spot. These are the stones.
In graveyards you may be sure of walking in your ancestors' foot prints. In some graveyards there is a vault or burial enclosure for the family of the local chief or laird. Yew or rowan trees were often planted to ward off the evil spirits; the trees are still watching and it only takes a little imagination to see the mourners of earlier times and hear the piped lament fading in the wind.
And battles. Every clan had its battles. Most sites are unmarked but sometimes there is a monument to the dead or a stone where the clan would traditionally gather. There may be an old bridge that marks a victory or a shore on which a planned landing foundered. We will take you there if we can.
To take your holiday plans further, you can either contact us by email or else go to our Enquiry Form.